Dr George Kong, Prof Algis Vingrys and Selwyn Prea
November 2022
A 12-month clinical trial to examine the validity of home-monitoring for glaucoma patients using a novel software app has been successfully completed by a team of Australian researchers. Glaucoma Australia's 2019 Quinlivan Grant Recipient, Dr George Kong, and his team carried out the world-first study to determine whether innovative telehealth technology (Melbourne Rapid Fields) could be used by glaucoma patients to perform visual-field testing at home.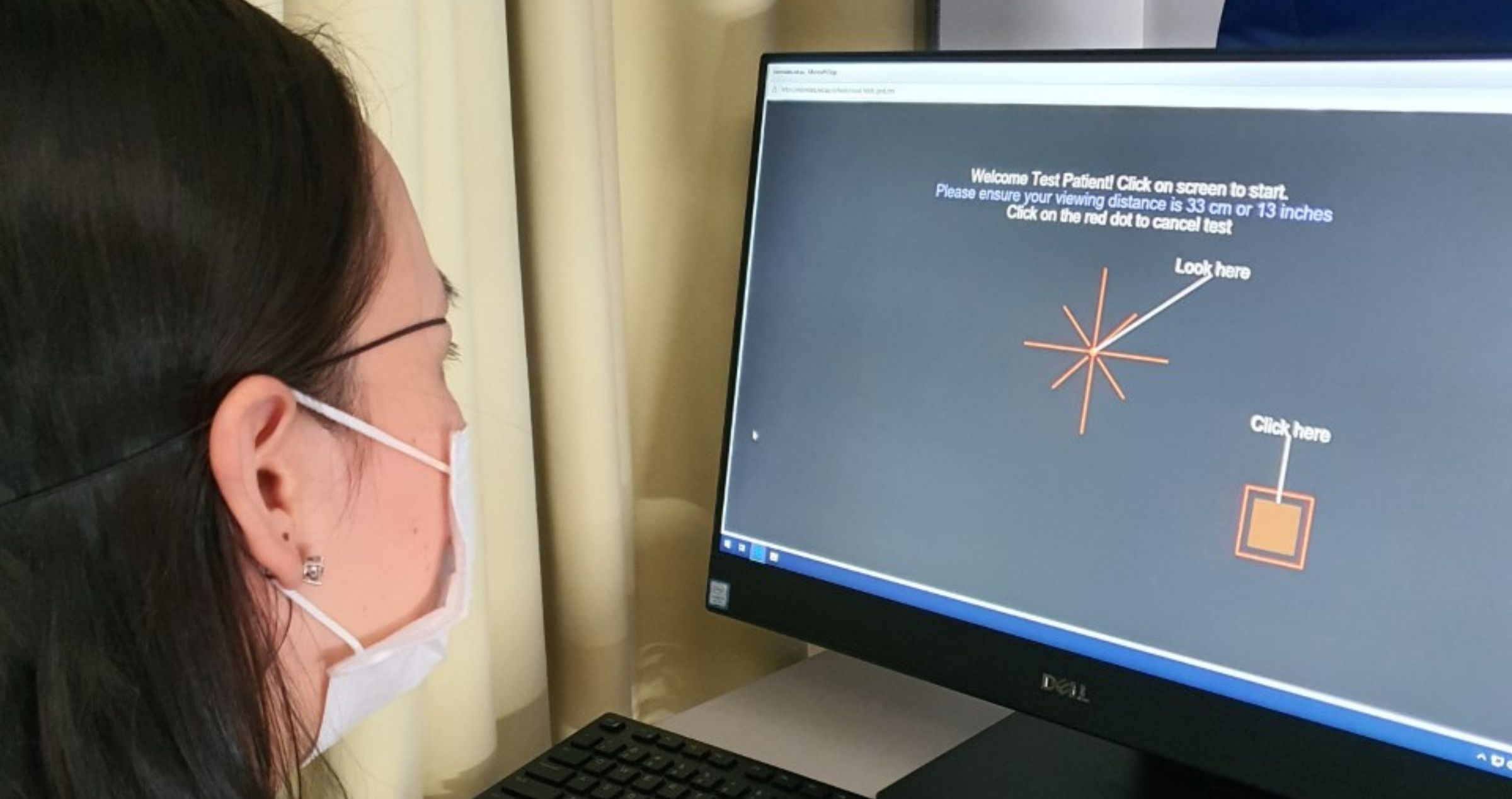 The team of researchers have reported the results of the study to be overwhelming positive with the at-home test offering glaucoma patients a reliable, consistent and easy-to-use method for monitoring visual field progression. To further understand the significance of these findings for glaucoma patients, Glaucoma Australia asked lead researcher Selwyn Prea a few questions about the study and its results.
What were you hoping to achieve with this study?
World first software has been developed in Melbourne for home monitoring of patients having chronic eye disease and we wanted to demonstrate the benefit that this telemedicine method can have for people with glaucoma. This study was undertaken as the first 12-month trial of weekly visual field testing by patients in their own homes. It was performed on participants having stable glaucoma using novel software (Melbourne Rapid Fields) on an iPad tablet. This software includes a voice over set of instructions that guide the patient through the test to successful completion and submission by internet connection. Testing was undertaken in the patient's home and the study co-ordinator received the results online as soon as they were submitted. The weekly schedule was achieved by mutual agreement with the participant for a convenient day/time for testing and we compared outcomes to the standard of care, which is 6-monthly clinical reviews. We have shown that identifying change early, can not only tailor intervention to the particular patient, but can also ensure that outcomes are better placed to minimise, if not prevent, vision loss.

The present study wanted to investigate those factors that might inhibited uptake of the test or our request for compliance to weekly testing schedules, to make the test user friendly. For this purpose, we recruited patients having stable glaucoma from the Royal Victorian Eye and Ear Hospital to our 12-month trial with patients requested to perform weekly testing in a quiet location at home. An SMS text reminder was sent to each person the day the test was due. We find that most elderly patients having glaucoma are familiar with smart phone, tablet or laptop technology and most can operate these tests successfully after minimum training. We hope that eyecare practitioners will recognise the benefits of telemedicine for their patients and employ such methods to provide better eyecare and vision outcomes.
Were there any surprising observations made during the course of this study?
We enrolled patients over a wide range of ages [21 to 89 years] and were impressed by the number of older Australians who became proficient with using the smart device for vision testing. In the majority of cases, participants were compliant to testing on a weekly basis and we found that missing an odd week did not really matter, as long as a majority of tests were done over the year. Sometimes it's easy to consider that older Australians will find such rigorous weekly testing schedules challenging and dropout, but we saw a large number progress without complication, with minimal input from the study coordinator. In contrast, we find some younger Australians (40s and 50s) were less likely to achieve a weekly schedule given they were busy with work and family commitments. But it is this group who really need such intense testing to ensure that vision loss is not progressing due to their younger age.

Our findings allowed us to suggest a different monitoring approach in such cases, that involved an intense period early (to define baseline) followed by a less intense monitoring cycle and a similar intense period later, if change is flagged. These two monitoring approaches can be selected to better suit people's personal preferences and life's demands. Participants completed a standardised questionnaire where the MRF was rated as being easier to use and more comfortable than traditional visual field testing. Tablet test duration averaged 4 mins or less which compares favourably with clinical testing adding to a superior overall test experience.
How are these finding relevant to both Glaucoma practitioners and patients?
Our findings, as well as those of computer simulations, show that weekly home monitoring can detect progression up to 1.5 years earlier than does standard 6-monthly clinical review. In our study, the two participants who progressed were detected 10 weeks before their next scheduled clinical visit, reducing the time that they were exposed to further vision loss. It is appreciated that 25% to 30% of medicated cases will progress over a 2-year period. What this test means for these patients, is that we can now deliver targeted medical treatments to those who are experiencing progressive vision loss, by calling them in for an unscheduled review which will hopefully lead to tailored treatment and better visual outcomes. More importantly, patients who are stable and who do not need medical review at that time, can continue testing from home, freeing up valuable hospital and doctor resources as well as reducing the need for unnecessary patient visits. There are huge benefits to all parties involved.
What are your hopes for the future? Do you have any follow up studies in mind?
As we have now identified those factors that limit or restrict uptake of the telemedicine methods, we would like to undertake a subsequent clinical trial on newly diagnosed patients. This study would require a large scale, multi-centred trial comprised of two-arms: the first using telemedicine at home to flag change and the other being monitored with routine clinical care. Such a comparison would expose the true benefits of early detection by home monitoring. It would help to define the best approaches to tailored medicine for glaucoma management and develop optimum clinical pathways for patients having glaucoma.
How has the support of Glaucoma Australia made this project possible?
Undertaking a study of this calibre would not have been possible without the financial support of Glaucoma Australia. Grant funding facilitated the purchase of iPads and SIM cards for internet connection which enabled our participants to be loaned equipment to facilitate engagement in weekly home-monitoring for the 12-month period of our trial.
References

1. Dr George Kong. Glaucoma Investigation and Research Unit, Royal Victorian Eye and Ear Hospital.
Centre for Eye Research Australia, Royal Victorian Eye and Ear Hospital, Melbourne.

2. Professor Algis Jonas Vingrys. Department of Optometry and Vision Sciences, The University of Melbourne. Centre for Eye Research Australia, Royal Victorian Eye and Ear Hospital, Melbourne.

3. Selwyn Marc Prea. Department of Optometry and Vision Sciences, The University of Melbourne. Glaucoma Investigation and Research Unit, Royal Victorian Eye and Ear Hospital, Melbourne.