Nettie Ng and Shakeeta Kumar
December 2021
It was a privilege to have Dr Rhuju Mehta present on 'Glaucoma Surgery – The old and the new' at Harry Perkins Institute of Medical Research on the 20th November 2021. There were around 60 people in attendance, majority of whom were glaucoma patients.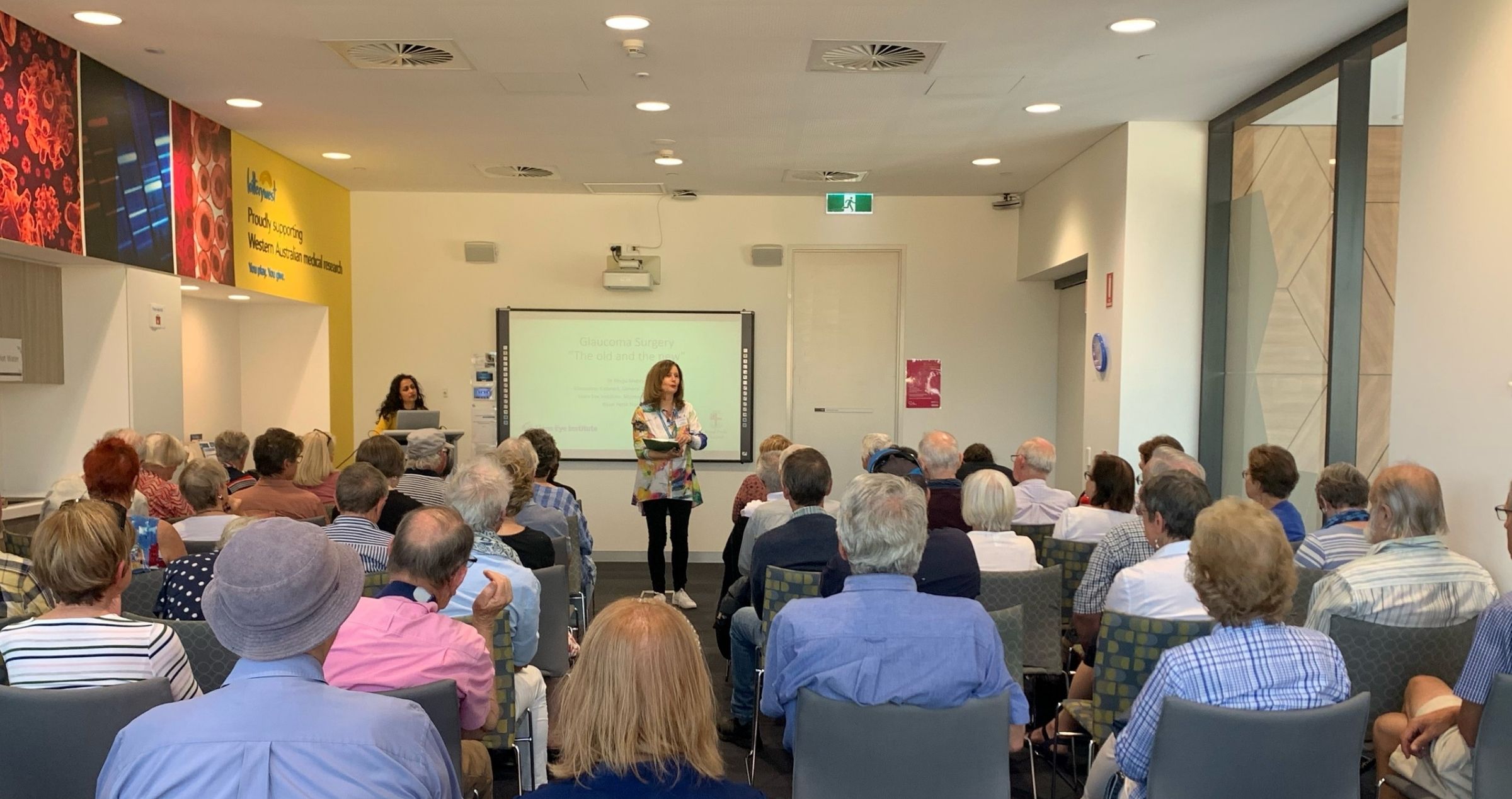 Dr Rhuju Mehta studied Medicine at the University of Western Australia. She completed her ophthalmology training at the Royal Victorian Eye and Ear Hospital. Dr Mehta has also completed a Glaucoma Fellowship at Royal Perth Hospital as well as the Fred Hollows Foundation Fellowship. Due to Dr Mehta's extensive background in this field, she delivered an insightful overview of current and future glaucoma treatment methods.

Dr Mehta discussed the origins of glaucoma treatment, including how it dates back to the 1800s. Historically, these treatments were not as effective as there was little control over intraocular pressure, however, they formed the basis of current glaucoma treatments and remain the gold standard in glaucoma surgery which is still practiced today such as trabeculectomy and shunt surgery.

Since then, there have been great advances in glaucoma surgery with ongoing research. Newer surgical methods such as MIGS (minimally invasive glaucoma surgery), iStent, XENstent, Hydrus Microstent and Ab Interno Canaloplasty have been researched thoroughly and found to be effective in some glaucoma patients. The effectiveness of these surgical interventions is also dependent on individual factors such as ocular anatomy, glaucoma type, intraocular pressure and other patient-related factors.

Dr Mehta explained that there is high variability in the progression of vision loss in glaucoma patients and that patients fall into the category of fast and slow progressors. Unfortunately, there is no way to predict how fast or slow a patient's vision loss may progress. Consequently, there has been a shift in the treatment paradigm of glaucoma towards early treatment especially in the form of surgery to avoid vision loss later in life. This is crucial because once vision is lost, it cannot be regained, which was a key message delivered in the presentation.

The presentation was highly informative and addressed topical issues surrounding glaucoma surgery. It is highly beneficial to have events such as these conducted in the community as it provides an opportunity to learn more about glaucoma. Additionally, attendees were able to ask questions regarding their treatment and also share their experiences which created a welcoming environment in which people felt open to share their experiences with one another.

Being optometry students and clinical volunteers for Glaucoma Australia has enabled us to apply our knowledge and skills regarding eye health and educate others in the wider community about glaucoma. It has been an enriching experience and we are grateful to have met many health professionals and volunteers along the way.

Attending events like these ensures that we understand how glaucoma impacts the everyday lives of patients which is crucial as future health professionals. One of our roles as a clinical volunteer is to reach out to glaucoma patients over the phone to provide support and advice to them. Whilst it has been such a rewarding experience to be able to assist patients over the phone, it was a privilege to also be given the opportunity to speak to patients in person. We would therefore highly recommend other optometry students to consider applying for the role of clinical volunteer.

We would like to warmly thank Gaela Hilditch and Dr Rhuju Mehta for hosting a successful event in collaboration with Glaucoma Australia.

Nettie Ng and Shakeeta Kumar have just completed their 1st year of the Doctor of Optometry at the University of Western Australia. They are also clinical volunteers with Glaucoma Australia.