One of Glaucoma Australia's five organisational priorities is 'Advocacy'. So what does advocacy mean? To me it means ensuring the voices of people living with glaucoma and their healthcare providers are heard by the influencers that develop and approve health policy. This could manifest as faster availability of new medications, access to more affordable treatments, more support services for patients, increased funding for research or to influence future health spending priorities.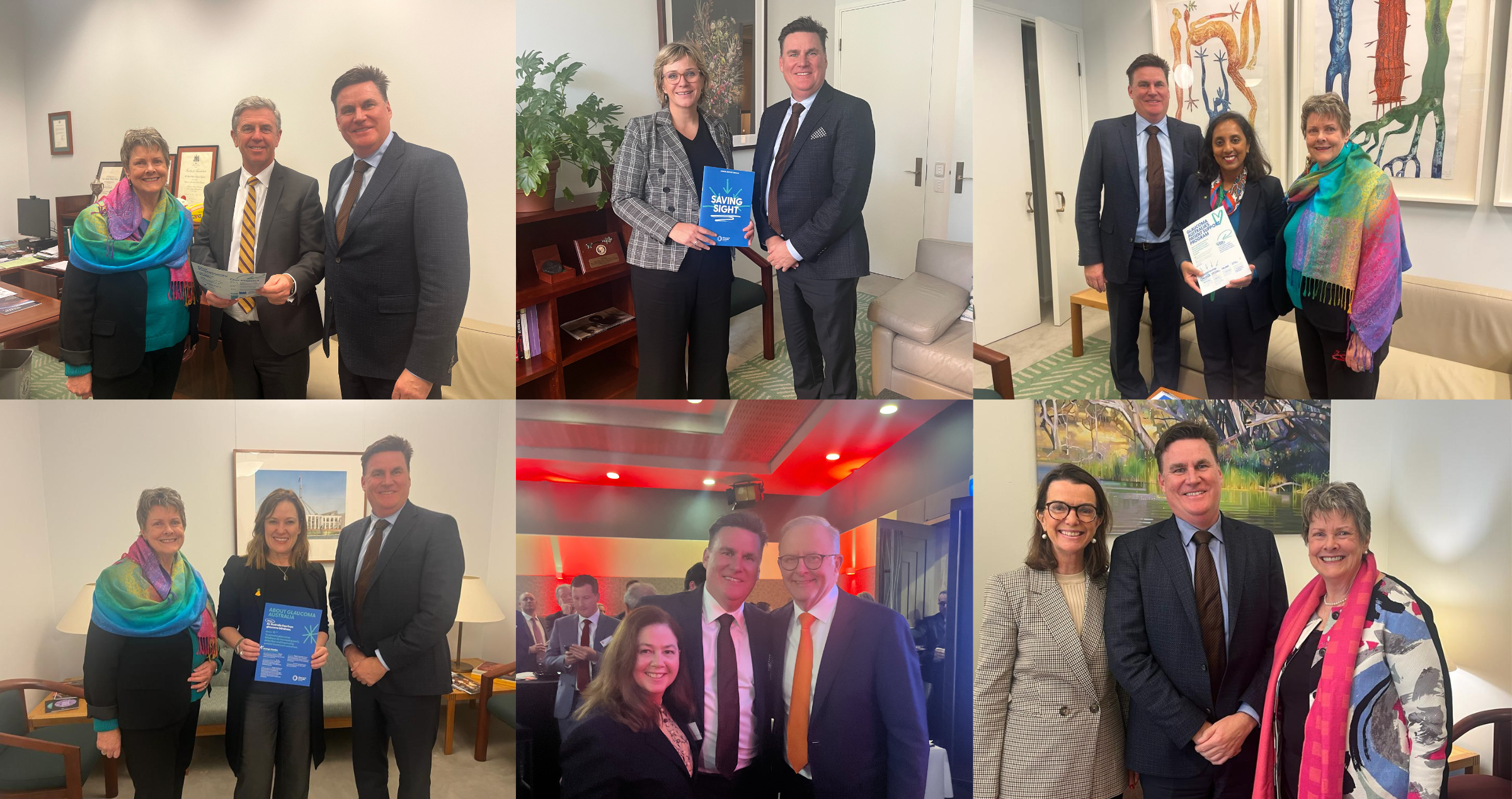 Image: Top row (L-R): Glaucoma Australia President Maree O'Brien, Dr David Gillespie MP and Glaucoma Australia CEO Richard Wylie; Zali Steggall MP and Richard Wylie; Richard Wylie, Dr Michelle Ananda-Rajah and Maree O'Brien.
Bottom row (L-R): Maree O'Brien, Tania Lawrence MP and Richard Wylie; Glaucoma Australia Honorary Secretary Lynette Klein, Richard Wylie and Prime Minister of Australia Anthony Albanese; Senator Anne Ruston, Richard Wylie and Maree O'Brien.

One of the most influential audiences for this advocacy is of course the Federal Government. This year Glaucoma Australia set the goal of maintaining a regular presence in Canberra, to raise the awareness of glaucoma and to keep the needs of patients living with glaucoma top of mind. Because if we don't keep flying the flag for glaucoma, no doubt other organisations will fill the void with other requests for support.
So how do we hope to positively influence Government for the benefit of people living with glaucoma? Firstly, we want to build a baseline level of awareness around the unique nature of glaucoma 'the silent thief of sight'. Secondly, we want to emphasise the benefits of identifying glaucoma early, so that the maximum amount of sight can be saved. Finally, we want to demonstrate the cost effectiveness of supporting patients throughout their glaucoma journey. Because well supported patients not only preserve more sight, they also reduce their reliance on health system and the NDIS saving many millions of dollars each year.
I look forward to sharing the outcomes of our advocacy efforts in the coming months.
Richard Wylie
CEO Glaucoma Australia