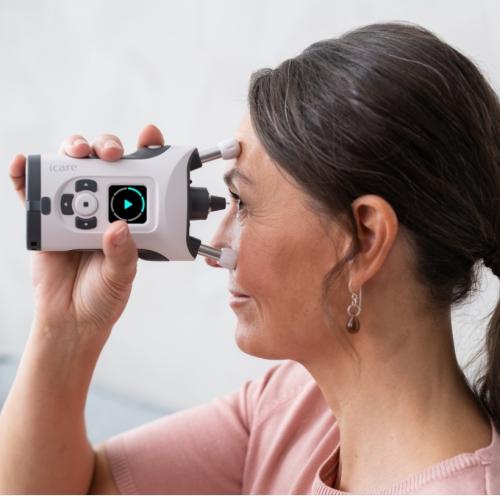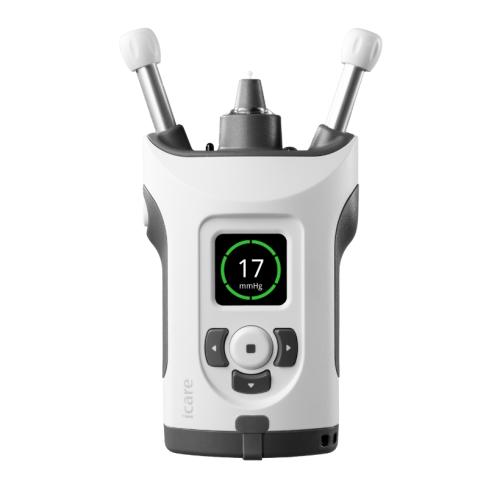 About this product
The iCare HOME2 tonometer for patient use provides easy and accurate IOP self-measurement to improve the ongoing management of glaucoma.
Glaucoma suspects and patients can measure their IOP using the HOME2 tonometer during normal activities as directed by their doctor. The iCare PATIENT2 mobile app provides the patient a graphical view of their IOP measurements history which can increase compliance with their treatment plan and follow up appointments. The IOP measurement results are easily shared with the doctor.
Patients can store their iCare HOME2 measurement data in a private account in the iCare CLOUD service or in their healthcare professional's iCare CLINIC account.
Key features
Reliable and accurate

Easy to deploy and use

Informative user interface

Measurements also in supine position

A new mobile app with IOP graphs for patient use

Private cloud account for patient use

Instant data transfer to the clinic
Videos

To learn more about iCare HOME2 including Technical Data & Package Info click here
ALWAYS READ THE INSTRUCTIONS FOR USE
FOLLOW THE INSTRUCTIONS FOR USE
Download the iCare HOME2 FAQ here.
Glaucoma Australia Clinical Committee Disclaimer
The iCare HOME2 device allows patients to monitor their intraocular pressure with quick and easy measurement between visits to their eye care practitioner. Measurements can be performed at different times of the day over several days providing patients with a picture of their intraocular pressure and any fluctuations that may occur. The iCare HOME2 is a valuable adjunctive tool for patients treated for glaucoma and those monitored as glaucoma suspects.
However, it should be noted that:
Intraocular pressure measurement taken by this device at home is not a substitute for measurements obtained within an eye care clinic.
Normal and low intraocular pressures do not mean that someone does not have glaucoma. A large proportion of patients with glaucoma and glaucoma suspects in Australia have pressures in the normal range. Many people with glaucoma have never had high intraocular pressure readings.
Intraocular pressure is only one factor in glaucoma assessment and needs to be interpreted alongside all other aspects of the clinical examination.
Intraocular pressure measurements may fluctuate throughout the day, even in people without glaucoma and the results need to be interpreted by an eye care practitioner.

Intraocular pressure measured with the iCare HOME2 may also differ to the results of other devices used by your eye care practitioner. The gold standard device is the Goldmann Applanation tonometry that ophthalmologists and optometrists often use in glaucoma management.
This device is not a screening or diagnostic tool. The iCare HOME 2 should be used in conjunction with regular reviews by an ophthalmologist or optometrist.
The iCare HOME2 device is used to provide a qualified eye care practitioner with additional information. Having measurements from the iCare HOME2 device interpreted by your optometrist or ophthalmologist, alongside standard clinical assessments, may be useful in providing care to patients as part of the glaucoma assessment.
Shipping and Returns
Glaucoma Australia delivers our orders to you through Australia Post. Orders are processed within 2-3 business days after receipt of your order. Please allow 7 to 10 business days for standard delivery in Australia and 1 - 3 business days for express delivery in Australia. We do not deliver overseas.
Please note that Australia Post is currently experiencing delays outside of our control.
For returns please refer to our Returns Policy or call 1800 500 880
Please take a moment to read our online shopping agreement for full terms and conditions.