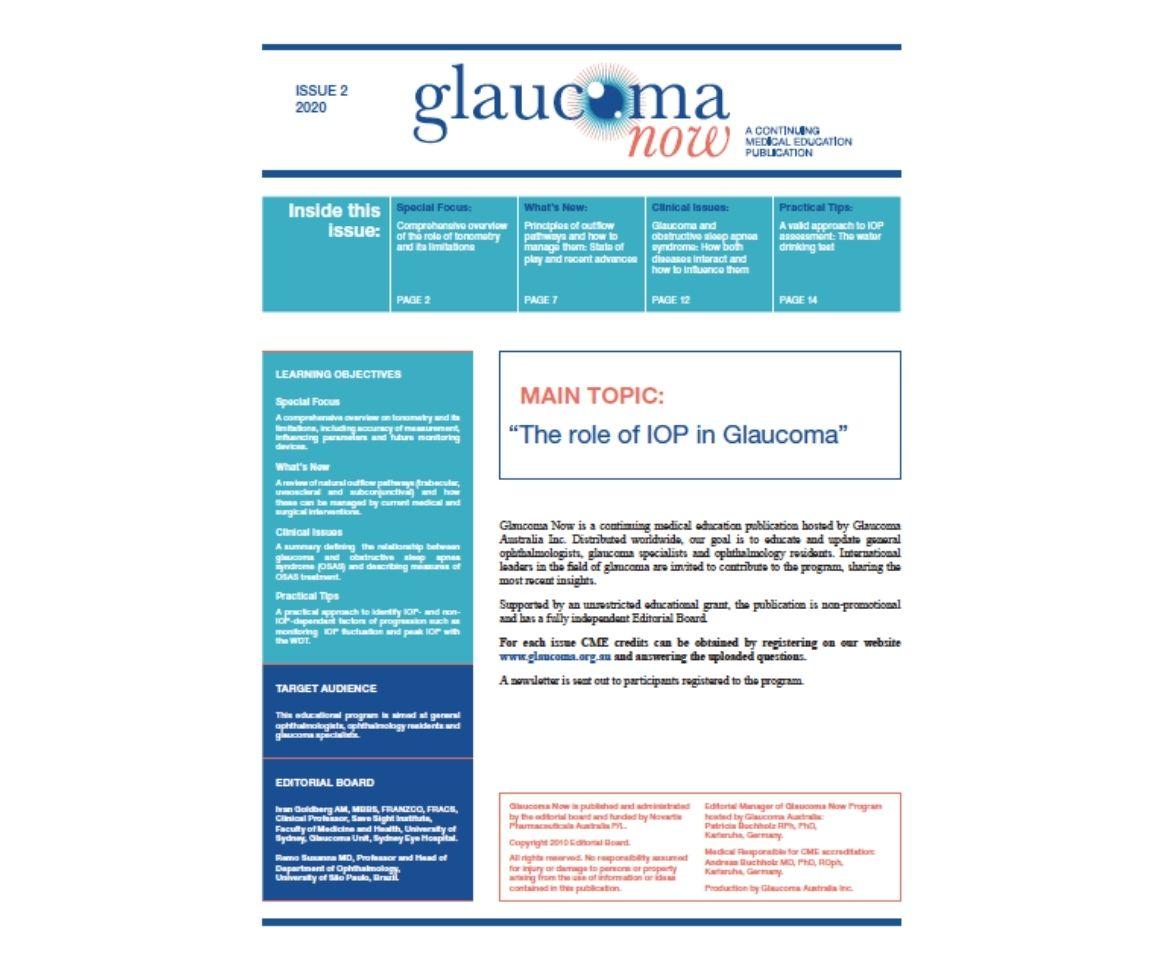 The role of IOP in Glaucoma
As Editors of Glaucoma Now and together with our publishing team we are happy to present our second issue for 2020 with the main topic: The Role of IOP in Glaucoma. In this issue, experts James Brandt, Paul Kaufman and Carol Rasmussen, Robert Ritch along with Colin Clement and Pushpa Raman share their wealth of knowledge and experience.
Inside This Issue
Special Focus: Tonometry in the 21st Century – New Technologies, New Challenges

Author: James D. Brandt, M.D.
Tschannen Eye Institute, University of California, Davis, Sacramento, California, USA

Core Concepts

Glaucoma is unique among chronic diseases in that its primary risk factor and therapeutic target (IOP) is measured only a few times a year in most patients.
Goldmann tonometry (GAT) is the most widely-used method of tonometry worldwide and is generally regarded as a 'gold standard' – but even under ideal conditions GAT has a reproducibility (precision) of only ± 2.5 mmHg.
Central Corneal Thickness (CCT) is a major confounder of GAT accuracy but 'correction' formulae and nomograms should not be used to 'correct' GAT measurements for individual patients, even when available in electronic health records.
The material properties of the cornea play an important role in GAT error and likely dwarf the influence of CCT. Corneal Hysteresis (CH) can only be measured by the Ocular Response Analyzer (ORA) but a compelling body of data suggest low CH is a powerful risk factor for glaucoma and progression
Home tonometry is emerging as another tool in the management of glaucoma
Implantable or wearable devices that measure IOP continuously will supplant our office-based 'snapshots' of IOP. How we analyze the coming deluge of IOP data from these devices will be a crucial challenge in the coming decades.

What's New: Natural and created outflow pathways in medical and surgical glaucoma treatment: trabecular, uveoscleral and subconjunctival

Author: Paul L Kaufman M.D. and Carol A Rasmussen M.S.
Department of Ophthalmology and Visual Sciences, University of Wisconsin, Madison, USA

Core Concepts

Medical therapy – new drugs
Drug delivery
Conventional and unconventional outflow
Lymphatic and distal conventional outflow
Gene and stem cell therapy
Laser treatment
MIGS devices

Clinical Issues: The importance of Glaucoma and Obstructive Sleep Apnea Syndrome?

Author: Robert Ritch, MD
Einhorn Clinical Research Center, New York Eye and Ear Infirmary, New York, NY, USA

Core Concepts

Relatively common, increasingly recognized but still far under-diagnosed, Obstructive Sleep Apnea Syndrome (OSAS) sufferers experience apneic and hypopneic episodes during sleep.
OSAS symptoms include daytime fatigue, headaches, difficulty concentrating and memory problems.
OSAS has been correlated with glaucoma and is a risk factor for glaucoma progression, especially in normal-tension glaucoma (which is also under-diagnosed).
The severity of OSAS has been correlated with the extent of glaucomatous damage.
OSAS reduces ocular perfusion pressure (blood flow to the optic nerve), resulting in decreased oxygen supply (ischemia) and predisposes the eye to glaucomatous damage.
Continuous positive airway pressure (CPAP) - the most common treatment for OSAS – improves ocular blood flow and may stabilize glaucoma progression
OSAS and systemic hypertension are associated with each other and CPAP treatment can lead to improvement in control and lowering of elevated blood pressure.

Practical Tips: IOP assessment with the water drinking test (WDT)

Author: Pushpa Raman MD, MS Ophthal (UM), PICO1, Colin I Clement MBBS BSc (Hons) PhD FRANZCP FGS2
1 Glaucoma Fellow, Sydney Eye Hospital, Sydney Australia
2 Staff Specialist, Glaucoma Unit, Sydney Eye Hospital, Sydney Australia

Core Concepts

It is essential to identify both IOP-dependent and non IOP-dependent factors to understand why progression takes place in glaucoma patients with apparently satisfactory IOP control as measured in clinics.
Current 24-hour ambulatory, continuous IOP monitoring devices are not cost-effective.
Surrogate measures such as inter-visit IOP variation or diurnal IOP curves, although helpful, are sometimes impractical.
Water drinking test (WDT) is a feasible, evidence-based alternative measure to determine IOP fluctuation and peak IOP clinically.
Peak WDT-induced IOP correlates well with peak diurnal IOP and may help to identify patients with significant IOP spikes and fluctuations.
The WDT requires the patient to drink a given volume of water (a fixed volume of 800 ml, or 10 ml of water /kg body weight) in 5 minutes; IOP is measured at 15-minute intervals post water consumption.
WDT is a reliable test to identify peak IOP that correlates with peak circadian IOP and to estimate risk of progression in treated glaucoma patients
WDT response allows clinicians to evaluate the efficacy of current IOP lowering interventions for an individual patient and to tailor the treatment plan accordingly.