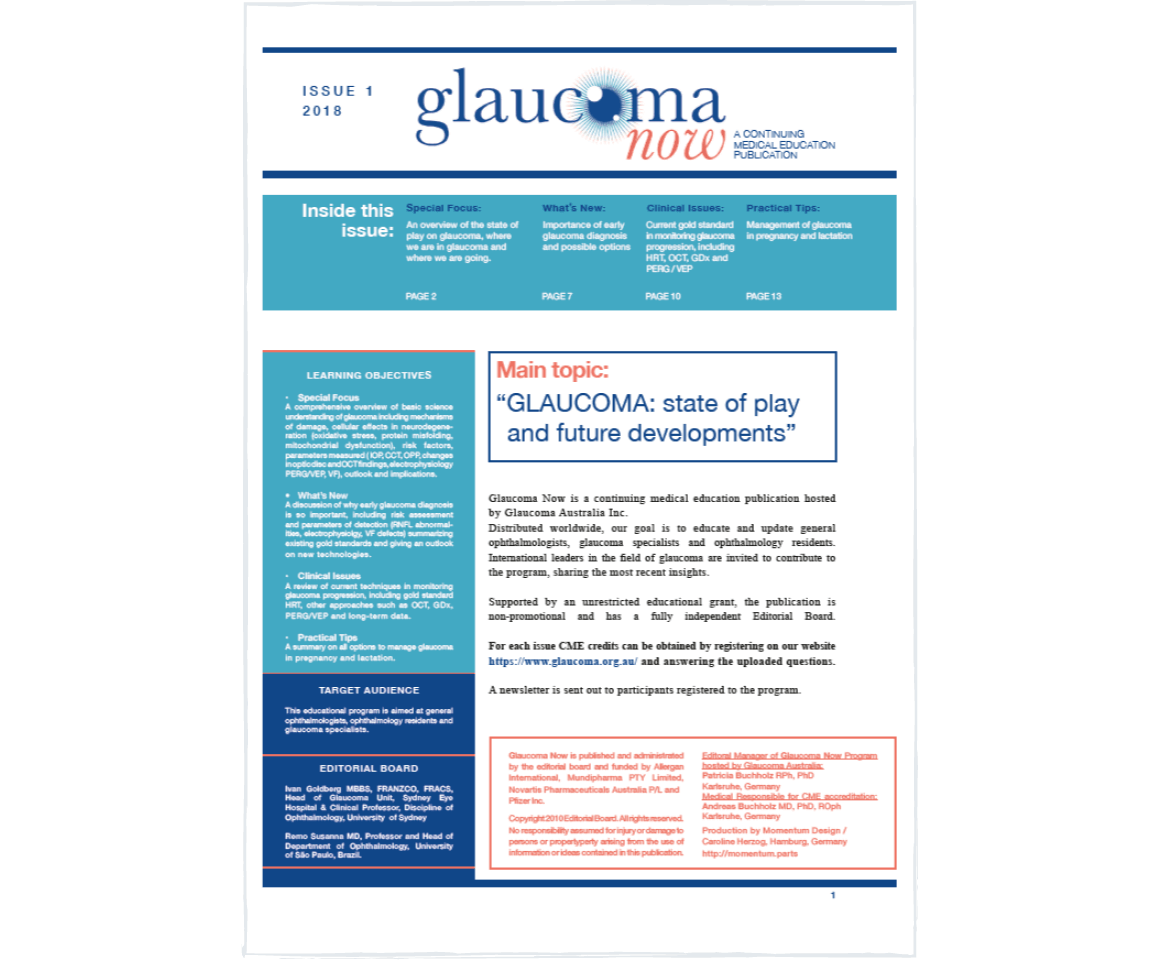 Read more about this
Glaucoma: Impact of Disease
As editors of Glaucoma Now and together with our publishing team we are happy to present our second issue in 2019 with the main topic: Glaucoma: Impact of Disease. In this issue, well known experts (Alain Bron, Anja Tuulonen, Tina Wong and Christoph Hinrneiss) share their wealth of knowledge and experience to stimulate us.
Inside This Issue
Special Focus: Glaucoma: Impact of Disease

Karl Mercieca1 MD FRCOphth FEBO-GL, Alain Bron, MD2
Manchester Royal Eye Hospital, Manchester, U.K.
University Hospital of Dijon, France

Core Concepts

Glaucoma is the leading cause of irreversible and preventable blindness worldwide.
The early stages of glaucoma can significantly affect patient quality of life.
Patient lifestyle and well-being are commonly affected by treatment side-effects, disease-related anxieties and clinic commitments.
The cost of glaucoma to society is dependent upon many factors, including disease severity, adherence issues, and type of health care system.
The burden of glaucoma is also shared by family members and caregivers.

What's New: What is 'new' in glaucoma screening and diagnostics?

Author: Anja Tuulonen , MD,PhD
Tays Eye Centre, Tampere University Hospital, Tampere Finland

Core Concepts

In the world of finite resources, it is crucial to consider how to deliver health care services equally and cost-effectively.
It is especially important to consider what to recommend when the evidence is missing, e.g. related to cost-effectiveness of screening for glaucoma.
While waiting for the evidence, policies on what to do are still required.
In addition to undiagnosed glaucomas, the concept of overdiagnosis is becoming slowly acknowledged also in glaucoma world.
To avoid turning citizens into patients unnecessarily, Choosing Wisely recommendations have entered eye care, including glaucoma.
In addition, new research concepts have been developed to aid decision making.
Benchmarking Controlled Trials evaluate the differences in real-world outcomes and costs and System Impact Research aims to promote and evaluate accessibility, quality, effectiveness, safety, efficiency and equality.

Clinical Issues: The burden of non-adherence: Can we overcome this ultimate obstacle in glaucoma management?

Author: Tina T. Wong FRCOphth, FRCSEd, FAMS, PhD
Singapore National Eye Centre, Singapore Eye Research Institute, Duke-NUS Graduate Medical School, Singapore

Core Concepts

Patient selection for correct choice of approach to managing non-adherence is important
Cost of new methods and the magnitude of their effect in addressing non-adherence needs to be carefully weighed
An incentive strategy approach can complement the method (surgical or medical) chosen to reduce non-adherence in a more sustainable manner

Practical Tips: Improving patient-centered care

Author: Christoph W. Hirneiß, MD, PhD
Department of Ophthalmology, Ludwig Maximilians University Muenchen, Munich, Germany

Core Concepts

As the number of persons with glaucoma grows from increases in the population and its ageing along with the expanding number of therapeutic choices, so do the possible management strategies for an individual patient.
Key elements to treat glaucoma optimally include not only appropriate medical, laser and surgical therapy but also open communication with the patient.
Even milder levels of glaucomatous vision damage impact significantly on patients´ quality of life (QoL) and need meticulous care.
While in diseases affecting central vision it is the better seeing eye that predicts vision related QoL (VR-QoL), both eyes and often the worse seeing eye better predicts VR-QoL in glaucoma. Vision needs to be preserved also in more damaged eyes, even those with advanced visual impairment.