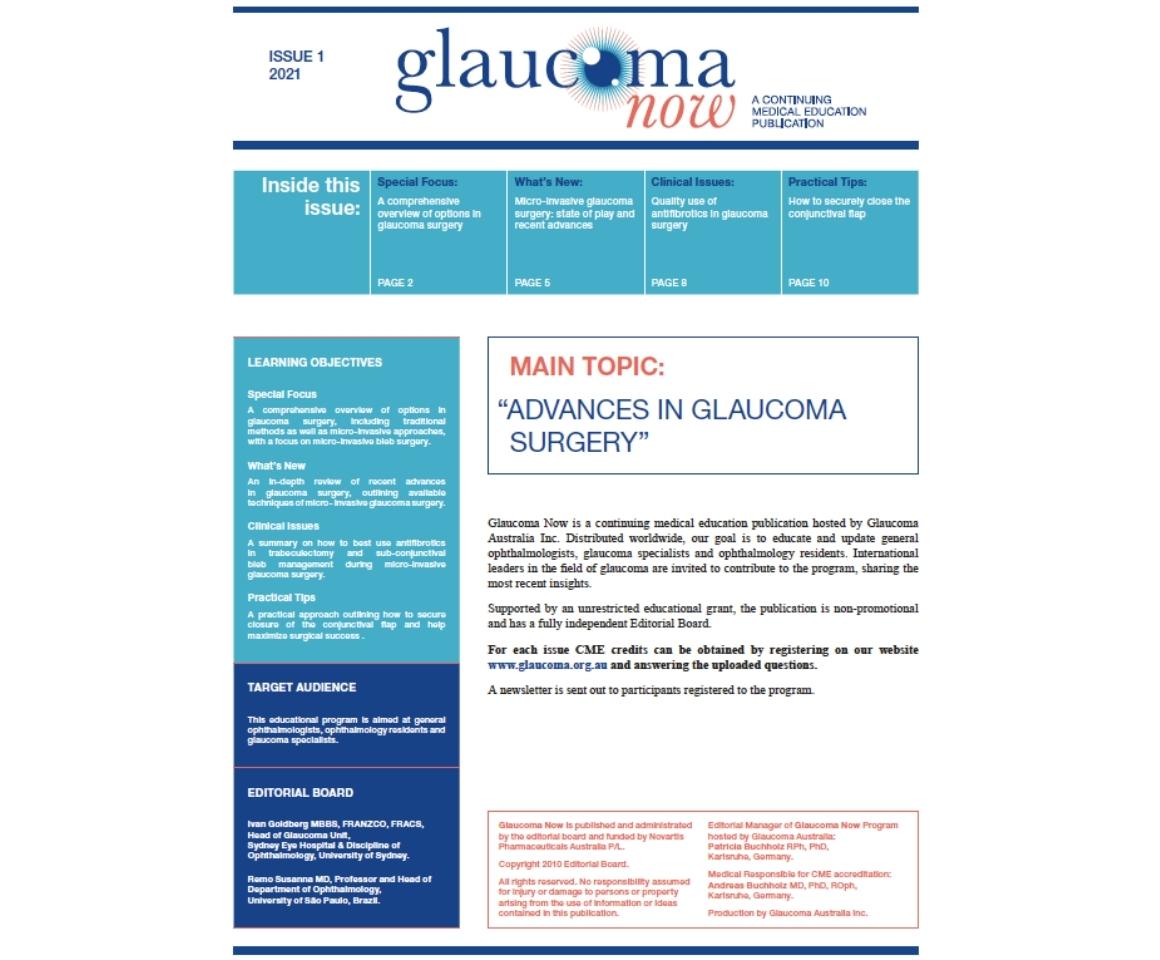 Read more about this
Advances in Glaucoma Surgery
As Editors of Glaucoma Now and together with our publishing team we are happy to present our issue for 2021 with the main topic: Advances in Glaucoma Surgery. In this issue, experts Ike Ahmed and Ticiana de Francesco, Robert Stamper and Joey Yen Chenh Hsia, Ridia Lim along with Thomas Samuelson and Jefferson Berryman share their wealth of knowledge and experience.
Inside This Issue
Special Focus: An overview on options in glaucoma surgery

Author: Ticiana De Francesco, M.D.1,2 Iqbal Ike K Ahmed, MD, FRCSC 2,3
1 Clínica De Olhos De Francesco, Fortaleza, Ceara, Brazil. Hospital De Olhos Leiria De Andrade, Fortaleza, Ceara, Brazil. Escola Cearense de Oftalmologia, Fortaleza, Ceara, Brazil
2 Department of Ophthalmology and Vision Sciences, University of Toronto, Toronto, Ontario, Canada
3 Department of Ophthalmology and Visual Sciences, University of Utah, Salt Lake City, Utah

Core Concepts

Trabeculectomy remains one of the most common incisional procedures for glaucoma; however, it is associated with significant complications.
MIGS (micro-invasive glaucoma surgery) has allowed clinicians to provide safer interventional therapies at an earlier stage of disease progression.
"MIGS" refers to a group of surgical procedures that aim to lower IOP in a safer and typically more physiological manner causing minimal trauma to surrounding tissue.
"MIBS" (micro-invasive bleb surgery) exhibit greater IOP-lowering potency than internal MIGS, extending indications for MIGS for more advanced glaucoma cases.
MIBS are more invasive than internal MIGS, but less so than traditional glaucoma surgeries, offering a favorable safety profile with faster recovery.
Ocular surface preparation helps to improve outcomes for MIBS by decreasing tissue inflammation, which could impact long-term survival of filtering blebs.
Typically related to distal tube obstruction with Tenon tissue, the major complication of MIBS procedures is failure to control IOP. Often this can be corrected by bleb needling.

What's New: Minimally invasive glaucoma surgery

Author: Robert Stamper MD PhD, Joey Yen-Cheng Hsia MD PhD University of California San Francisco, California, USA

Core Concepts

A wide range of MIGS exists with different target sites and IOP lowering efficacy to treat various stages and types of glaucoma.
Trabecular bypass stents have the most robust long-term data demonstrating their clinical efficacy and safety.
The excellent safety profile and rapid visual recovery of MIGS allow earlier surgical intervention in glaucoma management.
Newer devices are evolving with promises of clinical predictability, less tissue manipulation, and faster visual recovery.
While more options are now available, comparative studies are still lacking for MIGS and perioperative predictors for success remain elusive.

Clinical Issues: Quality Use of Antifibrotics

Author: Ridia Lim, MBBS MPH FRANZCO Glaucoma Unit, Sydney Eye Hospital, Sydney Australia

Core Concepts

Use of anti-fibrotics are key to modern glaucoma filtering surgery (GFS) success.
Application techniques vary for Mitomycin C (MMC).
Take care to determine your MMC dose, especially with injections.
MMC has significant potential side effects that has to be justified by the higher chance of surgical success.
Post-operative use of 5 Fluorouracil (5FU) can augment a MMC GFS bleb.
Needling of GFS blebs can be per-formed with both MMC and 5FU. MMC has a higher rate of success.
Other antifibrotic strategies that have been used are transforming growth factor (TGF) beta antibody, anti-vascular endothelial growth factor (VEGF), Ologen and Molteno's oral antifibrosis treatment.

Practical Tips: Secure Closure of the Conjunctival Flap

Author: Jefferson Berryman, MD1, Thomas W. Samuelson, MD1
1 Minnesota Eye Consultants, Minneapolis, MN

Core Concepts

Secure closure of the conjunctiva is essential to maximize trabeculectomy success and minimize long term complications.
Limbal-based flaps are generally less prone to early bleb leaks but may result in more focal, anterior blebs.
We prefer closure with 8-0 Vicryl on a TG needle but 9-0 or 10-0 either Vicryl or nylon suture may be used.
Limbal-based flaps are typically closed in a simple running fashion, but care should be taken to incorporate Tenon's into any conjunctival closure.
We prefer a modified Wise closure for our fornix-based flaps which leaves a small lip of anterior conjunctiva when making the initial incision. We attempt to bury all knots.
If no lip of anterior conjunctiva is left, typical closure involves either wing sutures or mattress sutures through the cornea.