About this event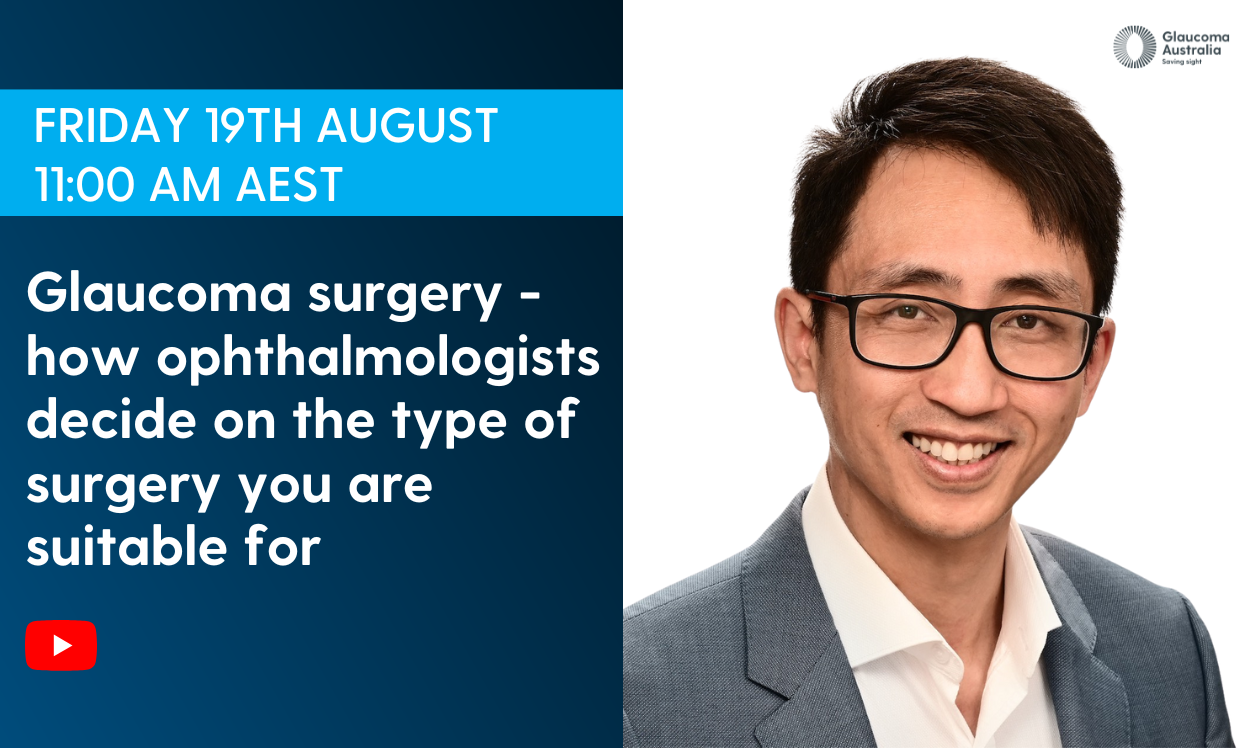 Register now for our YouTube Live Q&A event with Ophthalmologist Dr Ethan Nguyen on the topic 'Glaucoma surgery - how ophthalmologists decide on the type of surgery you are suitable for'.
Dr Nguyen will discuss the different surgical options available for patients in the management of glaucoma, looking at established and new and emerging operative therapies which can supplement or replace topical medications where appropriate.
He will also explore the different types of surgical interventions available, when they are indicated, what is involved with surgery, and talk about some of the new surgical devices on the horizon which might change the landscape of glaucoma over the coming years.
Join us on Friday 19th August at 11AM AEST to learn about this important topic. To watch this event Live on YouTube and participate in the discussion please register here:
https://go.glaucoma.org.au/aug-22-en-live-event-registration-em
More about Ethan:
Dr Ethan Nguyen is a Sydney-based medical retina specialist and glaucoma and cataract surgeon. After acquiring his medical degree from Monash University, he worked in Sydney's public hospitals as a physician trainee before going on to ophthalmology training at the Sydney Eye Hospital for 5 years.
His experience includes a prestigious 1 year medical retina fellowship with the distinguished Professor Paul Mitchell at Westmead Hospital, managing complex retinal disorders. Following this, Dr Nguyen spent 3 months in Royal Perth Hospital with Professor Bill Morgan, learning advanced operative techniques in glaucoma surgery.
In 2019, he moved to London for an 18 month surgical glaucoma fellowship at Kings College Hospital. Here, he acquired further experience in both traditional glaucoma surgery and had exposure to novel therapies such as minimally invasive glaucoma devices (MIGS) and partook in studies looking at factors influencing success rates in glaucoma surgery.
Since returning to Sydney in the middle of 2021, he has been working in various private practices in Sydney's western and southwestern suburbs and regional centers.
Event details
Date
Friday 19th August, 2022
Time
11:00am - 11:30am
Cost
Free
Location
Online